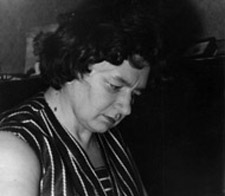 Tatyana Golland: The Unforgettable Emil Gilels
On the firmament of the world music culture of the 20th century, Emil Gilels is a truly epochal phenomenon. Neither time nor vanities of the vanities are able to erase names like his. The memory of the contemporaries and admirers of Emil Gilels never grows old either.
The child´s startling musical gifts were discovered when he barely was four years old. He played his first solo concert at the age of twelve, and he gave his last one month before his untimely decease in 1985.
The boy carved his way to big music through his victory at the first All-Union Contest of piano performers in Moscow in 1933. As Yakov Flier believed, he was "a world class pianist" as early as at the age of sixteen. The pianist´s concert tours are amazing in the length of their routes, the number of countries, cities and compositions performed. He played in more than eighty cities of Russia, Ukraine, Karelia, Caucasus, Belarus, Urals, Middle Asia and Siberia. He gave concerts in virtually all countries of Western Europe, in the Unites States, Japan, Mexico, Canada and Turkey.
His solo and symphonic performances took place in overseas palaces and the Moscow Kremlin, in the United Nations and small resort towns. The doors of famous metropolitan halls filled with elite and modest provincial venues somewhere in coal miners´ Donetsk Basin or in were always eagerly wide open for him. During WWII, he was a welcome guest on offhand stages on the front line.
Wherever Gilels played, his audiences looked forward to his concerts as genuine music events. It is better to judge of the artists emotions and feelings by his own words: "To me, the day of the concert is similar to the day of the advent to the faithful, a religious holiday. That is why everything outside of it should be swept aside".
A great number of articles and reviews have been written about Gilels´s pianism and power of his impact on the listener. They compared Gilels´s playing with "a shaft of sun light," they called him "a creator of beauty" and his masterly performance "wise, making miracles out of sounds thoughts and feelings".
The might of Gilels was not just in his impeccable technique, but probably and more importantly in his harmony of thoughts and endless artistic fantasy. And the musician was a person of amazing integrity and harmony as well. Gilels´s hands which appeared small yet muscular turned into magical as soon as they touched the keyboard, and all at once the crowded halls came to a standstill in expectation of another miracle of arts. With the first sounds of music, the audience fell within the power of the pianist. It was a mystery how he could achieve such a spiritual unity with his listeners. It was his secret, his magic…
Gilels was a great artist. Just like his fame. Notwithstanding all that uniqueness of his talent, he was not a megalomaniac. Never, nowhere and under no circumstances he demonstrated his oneness and commanded attention only when he played.
The pianist´s boundless repertory included the works of Scarlatti, Bach, Mozart and Beethoven to Prokofiev, Shostakovich and Stravinsky, music by Austrian, German, French and Italian composers, Spaniard Albeniz, Bulgarian Vladigerov, Czech Smetana, Hungarians Bartok and Liszt, Norwegian Grieg, Pole Chopin, and, of course, many Russian and Soviet authors. The compositions were both well known and rare, or even never performed before, -and the latter became classic (Second Piano Sonata by Kabalevsky, Fourth by Vainberg).
The composers whose music stirred Gilels most in his early childhood years were Bach, "a saint" as he put it; Mozart and Beethoven (the pianist was one of recognized outstanding interpreters of the composer´s piano works), then Tchaikovsky and Rachmaninov. Possessing a very sensitive spiritual world and heartfelt tenderness, Gilels could not help loving Grieg´s music.
Tchaikovsky´s First Piano Concerto, which the pianist played a countless number of times throughout his career is still considered to be a model of interpreter´s thinking, a finest delve into the composer´s idea.
The highlights of Gilels´s performing art were a most complex Twenty-ninth Piano Sonata by Beethoven ("Hammerklavier"): when it was premiered, it was an emotionally shaking experience even to the most sophisticated audience – musicians; and Twenty-seventh Piano Concerto by Mozart. The "Symphonic Etudes" by Schumann, which he performed in the 1980s unveiled some earlier unknown sides of his seemingly unlimited creative abilities just as it was at the dawn of his piano career – his interpretation of familiar compositions was still interesting and unpredictable.
A special page in Gilels´s career was his joint performances with his daughter Yelena. Their trademark number was the dual piano concerto by Mozart. Since its premiere in Salzburg in 1972 with the orchestra directed by Karl Bohm, it remained in their repertory until 1984.
Emil Gilels was a legendary personality, a man of supreme spirituality and culture. His name has become history of piano art of the 20th century. The need of telling, writing and knowing about him as much as possible and listening to his numerous recordings never wears out so attractive the creative and human image of the artist is. Being laconic in daily life, he fully spiritually uncovered himself in music. His striking ability to merge with music, a purely Gilels-like inspiration, an almost vocal expressiveness and sincerity of any composition which he performed taking the listener into his confident emotions cannot be forgotten. What can be dearer and more beautiful than this?
Moscow, August 6, 2006